In the globalizing world, the effect of technology has begun to affect our lives in every field. Opening the door to many innovations such as computers and smartphones, human beings have recently started to digitalize in the field of health.
For example, the best way to interpret and analyze the experiments carried out in laboratories and the genetic material in living things can only be done in the computer environment. In the same way, along with technological developments, many new concepts such as digital dentistry have emerged.
With the production of new digital devices and processing software, a new era has begun for dentistry such as digital dental implants.
Digital dentistry is a concept that includes the use of digital and computer-based dental technologies, as well as the use of mechanical instruments in the realization of dental applications. This concept offers effective and successful digital dental solutions to patients' oral and dental health problems.
Digital dental solution breakthroughs in imaging and software are tools that dentists frequently use that enable them to care for their patients most attentively.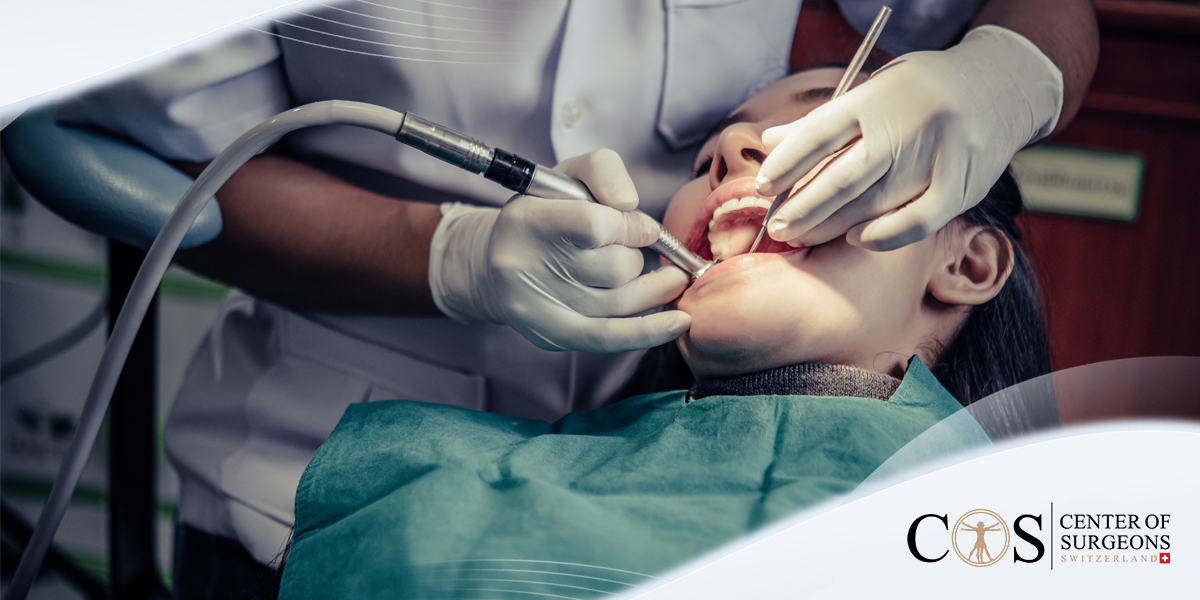 Why Is Technology Important in Dentistry?
In general, more time is lost in traditional dental treatment methods. However, when digital dentistry methods are used, solutions to the problems of patients can be found in a much shorter time. Therefore, one of the most important points of digital impressions in dentistry is to prevent time loss.
Also, digital dental solutions are much less painful than conventional methods. Considering that many patients postpone their dental treatments because they are afraid of painful procedures, it becomes clear how important digital dentistry is.
Another important point of digital impressions in dentistry is that there are many more treatment options. Successful results can be achieved by choosing the most appropriate treatment method for the patients.
What Are the Benefits of Digital Dentistry?
If oral and dental health is taken care of, many functions of the body are preserved. The mouth area is a very suitable environment for bacteria to grow, so it should be checked frequently, and necessary digital dental solutions should be applied. Dentistry, on the other hand, provides solutions to various oral and dental problems of people and tries to provide patients with the beautiful smile they dream of.
The benefits of dentistry are endless: treatment of dental caries, application of digital dental implantology methods, teeth whitening treatments, orthodontic treatments, and more. Likewise, dental digital solution breakthroughs, which have been spreading frequently recently, provide many benefits for patients.
When digital dentistry is not utilized, both labor and time are lost. Here are some of the benefits of digital impressions in dentistry:
Digital dentistry provides a very high-quality service for dental health.
The most modern tools and devices are used in some treatments. For instance, digital implant dentistry.
Scans with more accurate results can be made with digital dentistry.
Digital impressions in dentistry help to determine the problems that may occur during or after the treatment.
Digital dentistry provides a more reliable treatment experience for the patient and dentist.
Thanks to digital dental solutions, many dental applications can reach the highest level they can be. For example, these developing approaches have made the concept of Hollywood Smile popular, which includes the perfect tooth appearance that people who are frequently seen recently can have.
What Is the Importance of the Internet in Dentistry?
The internet, which enables us to access almost all the information we are looking for, undoubtedly plays an important role in dentistry. For example, to read an article about emerging new digital teeth impressions require access to the Internet. Even now, you need to have access to the internet to be able to read this article.
Considering the importance of the Internet in the field of dentistry, the following can be considered:
Information about medications in digital dentistry: When a dentist updates patients' medical history, patients may be missing medication information. Therefore, dentists can access information about drug indications and drug interactions by searching patients' prescription drugs online. There are also many websites developed to reach accurate drug information.
Contributing to patient education: The internet is one of the best tools to teach patients how to care for their teeth at home. Most Internet websites, which have a wide range of information resources, also have multilingual features. Therefore, people from all walks of life can benefit from this information.
Answering questions about dental problems and learning new trends: Many websites on the Internet are designed to establish a question-answer relationship between healthcare professionals and patients. In addition, the knowledge of doctors about the latest technologies in dental health can be consulted. For example, a patient can enter the site to get information about the recently emerging digital implant dentistry and submit a question.
How Do Dentists Use Technology?
The concept of digital dentistry, which emerged with the use of technology in dentistry, continues to develop. Some of the technologies dentists frequently use include:
Invisalign: Invisalign is transparent braces that can straighten teeth when they are deformed. This digital dentistry technology, which is frequently used in orthodontic treatments, provides a beautiful appearance without metal brackets and wires.
Laser Dentistry: Lasers are frequently used in several dental applications such as filling cavities after ⦁ root canal treatment, reducing tooth sensitivity, and ⦁ teeth whitening. This method is painless and can destroy any type of bacteria that may cause problems later during application.
Digital dental implants: With dental implants, missing teeth can be replaced with new ones. Procedures applied with digital implant dentistry allow patients to achieve the aesthetic appearance they want with permanent solutions.
What Is Digitalization in Dentistry?
Digitalization, which is becoming more and more widespread in daily life, continues to develop in the field of dentistry. Here are some digital dentistry tools that patients will often come across at their appointments:
Over time, with the advent of digital dentistry, the cameras used to check teeth began to replace the small mirrors used in the past. Due to its ability to enlarge the image on the flat screen, it provides a detailed examination. This is very important for producing digital dental solutions to problems that may occur in oral and dental health. Images taken with the cameras can also be shared with lab operators so that crowns and bridges can be matched to actual tooth color.
In addition, these digital impressions in dentistry are very important for solving some disorders caused by tooth decay and genetic factors. Dentists may recommend detecting deformations in the visible parts of the teeth and applying solutions such as dental crowns suitable for them.
The use of X-rays is frequently used in dentistry as in many areas of health. Traditional x-ray processes require some time to process films and this system is expensive. In addition to all these, the obtained images must be stored by filing and involve many efforts.
But of course, with the spread of digital dentistry concepts, these processes have become much easier. Digital radiography provides much faster results. These images can be immediately projected onto a computer screen.
Patients' files can be stored on a server and these images can be shared with specialists as needed. In addition, according to a study published by the American Dental Association, radiation exposure with digital radiology is less than exposure to X-ray film.
Intraoral scanning and CAD /CAM technology
Before digital teeth impressions were developed, dentists put an adhesive impression material on a mouth guard, placed it against the patient's mouth, and bitten by the patient until the material hardened. The sample was used to make a mold. This form was then sent to a lab where the patient was helped to create the device they needed to repair or replace their teeth.
However, with the rapidly growing intraoral scanning and CAD/CAM technology among digital dental solutions, there is no longer any need for the impression material to remain in the mouth of the patients.
These scanners create a 3D digital image of the mouth to enable dental technicians to design a prosthesis (crowns, veneers, bridges, digital dental implant restorations). The prosthesis is then milled from solid material or 3D printed.
How Technology Is Changing the Future of Dentistry?
Innovations in technology have enabled digital dentistry to become widespread and offer very different perspectives for the future. For example, it is predicted that some scans can be done at home in the future, thanks to smartphones. If digital impressions in dentistry evolve in this way, it means unlimited service to all parts of the world is possible.
Especially the developing world countries still have problems in benefiting from health services. As these potential future systems emerge, digital dental solutions will benefit many people. For example, a person who uploads scanned images to the system to be created will be able to benefit from digital dentistry by getting analysis from experts.
In fact, with these dental digital breakthroughs, some imaging and diagnostics can be done without the need for specialists in the future. As a result, with the further development of digital dentistry, technologists will also play an important role in these issues. Dentists will be able to focus on more complex, difficult procedures.
What Is the Latest Technology in Dentistry?
Undoubtedly, many dentists have started to adopt digital dental solutions with the latest technological tools. Some of these cutting-edge technologies include:
HealOzone: It is a digital dental treatment method used in dental caries applications using ozone (O3).
DIAGNOdent: It is a new state-of-the-art digital dentistry device used to detect cavities where normal x-rays cannot find them.
Cancer Screening Tools such as VELscope: Fluorescent imaging techniques help visualize abnormalities that cannot be seen with the naked eye. Thanks to these digital dentistry tools, early diagnosis can be made, which slows the progression of the disease.
Digital Dental Implants: Digital implant dentistry uses a 3D computer simulation that can check the patient's bone condition and nerve location, analyze the risks, and help create the appropriate treatment method.
Eventually, since technology has entered human life, it has been inevitable to advance in every field. Smartphones, artificial intelligence, and algorithms have started to settle in our lives even more and new concepts have emerged. Especially digital impressions in dentistry will lead to a great revolution in the future.
Digital dentistry, which is very helpful in 3D imaging techniques, laser technologies, digital dental implants, and cancer diagnosis, has succeeded in bringing a new perspective to the field of health. It is foreseen that there will be no need to use any drills or injections in the future.
In addition, thanks to digital teeth impressions, services can be accessed much more easily, and treatment times can be shortened. With the advancement of digital dentistry, greater steps will be taken toward the prevention of tooth decay and periodontal diseases. In short, the future promises more beautiful and healthy smiles.